A Spiritual Approach to THE DRESS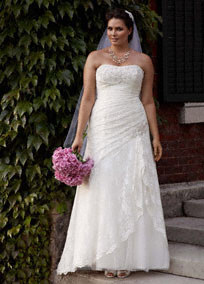 So many brides go through a tremendous amount of stress around what to wear to their wedding.  To make matters worse, the process of shopping can be an enormous trigger of negative feelings if you aren't feeling 100% about your body size.  And don't get me started on those 360 degrees of mirror!  If we were supposed to see our backsides, we would have an extra set of eyes on the back of our heads.
I've heard so many horror stories about brides starving themselves before their weddings in order to look good in their photos.  Months later, they tell me that when they look at their "skinny" photos, all they can think about is how crazy they were, how they didn't get to enjoy their reception meal, and that they were obsessed about their weight.  And they usually gain more weight than they lost afterwards.
How about this:  your spouse agreed to marry you.  You were your usual size when they asked you.  That means they loved YOU as you were.  Try to remember that, and when you are shopping for your wedding attire, find something that makes you feel happy, looks lovely and that you can eat in, dance in, hug people in and enjoy wearing.  You will actually be Emotionally Present at your own wedding! Imagine that!
Now that you've decided to love and accept yourself as you are, I highly recommend that you go to David's Bridal on Menaul in Albuquerque.  On some evenings and weekends, you might get lucky and get Janelle to help you find the perfect outfit.  She is supportive, non-judging and has wonderful style.  She's going to be Albuquerque's most successful wedding planner one day, I just know it!  And go ahead and get the fanciest flip flops, covered with flowers and crystals, that you can find.  This is the Burq, after all!  Above all, enjoy your wedding.